Management Consulting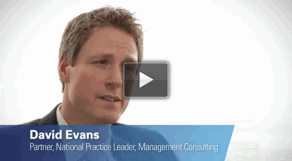 What does clear advice mean to you?
Successfully navigating business challenges in today's marketplace is more important than ever. Organizations are leveraging lessons from the economic crisis to transform their businesses, balancing the critical levers of cash flow-cost, investments, revenue and HR strategies and programs to achieve sustainable business performance.
In this current landscape, organizations need to identify solutions that are innovative, relevant and designed to transform their business to stay ahead of the curve. To thrive in this environment, an organization needs to cut though the complexity and add value with forward-thinking insights and practical, actionable solutions to support their business strategies.
Find out more about how we can help your organization cut through the complexity of critical business challenges:
Manage your business in an increasingly information-driven market
Organize critical data to produce the insightful information needed to deliver value to the organization
Manage cross-organizational transformation
Continue to successfully re-shape your organization and reach your financial goals.
Also, please see: